Personal Assistance
Service animals
Service animals are specially trained to assist people with disabilities in performing tasks of daily life. They may be able to guide, signal, or perform physical tasks for their owner, alert others to seizures or psychological emergencies, or provide therapeutic companionship. The right to service, access, employment, or housing while using a service animal is protected by the Americans with Disabilities Act.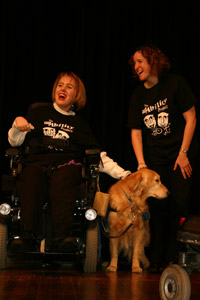 A woman who uses a wheelchair is accompanied by her service dog.
Courtesy of That Uppity Theatre Company
Seeing Eye dogs were the first service animals in the United States. Although there is a long history of dogs assisting people who are blind, becoming standard in 1819 when Johann Wilhelm Klein founded the Institute for the Blind where he trained guide dogs, it took another century for the program to become internationally known. After World War I, veterans who were blinded in the war required help to return to their lives and function independently. The Austrian War Department developed a guide-dog training program for veterans who were blind.
In 1928, Dorothy Harrison Eustis, a Philadelphian living in Switzerland who trained dogs for police units and Red Cross rescue units, was asked to train a dog for Tennessee native Morris Frank. Frank had lost his eyesight in two accidents and wished to use a guide dog to live independently. Eustis's success with Frank and his guide dog Buddy encouraged her to train dogs as service animals and to work with each new pair to establish an effective team relationship. Frank and Buddy became ambassadors of the fledgling protocol in America and established The Seeing Eye in 1929. Organizations world-wide soon followed suit, and guide dogs are now prevalent around the globe.
The many different types of service animals in the United States owe their existence to the popularization of guide dogs by The Seeing Eye. These different types are:
Hearing: Trained to alert a person who is deaf or hard of hearing to certain sounds
Service: Trained to meet the specific physical requirements of a person with a physical disability (i.e., pull a wheelchair or pick up dropped objects)
Alert/Response: Usually trained to work with people with epilepsy or other seizure conditions to seek aid; can also work with people with psychological or psychiatric disabilities
Therapeutic Companion: Has only basic skills and provides companionship to benefit the life of a person with a disability; are the only service animals that are not legally protected by the ADA
It is easy to spot service animals. They are not required by the ADA to have identification, but they usually wear identifying items such as a vest, a tag, a harness, or a backpack. The ADA protects the right of people with disabilities to use service animals in public places with no penalties, such as extra fees at hotels. If you see a service animal in public, remember that the animal is not a pet to be approached and petted, but is working and helping its owner, and always ask the owner before you touch the animal.
Personal Care Attendants
When a person with a disability needs some help with aspects of daily life, a personal care attendant (PCA) is an option. For both short and long-term care, PCAs provide maintenance health care and skilled care for non-emergency health-related tasks.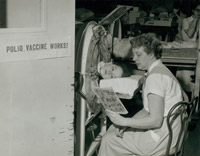 A child in an iron lung is read to by a nurse.
Courtesy of Post-Polio Health International
Recipients of personal care attendant services often use Medicaid benefits for the service, since the PCAs assist them with activities of daily living and household duties necessary for their health and comfort. The assistance a PCA provides may make it possible for a person with a disability to live at home.
Interpreters
The Americans with Disabilities Act requires that reasonable accommodations be made for people with disabilities. For some people with hearing loss, accommodation can often be in the form of a sign language interpreter for effective communication. Hiring an interpreter can ensure that information is communicated accurately and in a timely manner. Interpreter services are free to the person with hearing loss-they are paid for by the facility, although tax credits exist to help offset the cost. Captioning and sound enhancement are also viable options for other situations.
A less-known form of interpretation is that of audio description. Programs such as the ballet and the opera may seem to be inaccessible to people with sight disabilities, but descriptive performance interpretation allows everyone to understand the on-stage action. Interpreters convey the physical portion of the performances in a descriptive broadcast that the listener receives through an earpiece.
With the correct interpretive choices, people with various and varying degrees of disabilities can experience worlds from which they were previously barred. When you plan an event, make sure you take these possibilities into consideration and choose the appropriate avenue to ensure that everyone can participate.
Sources: U.S. Department of Justice Civil Rights Division, "ADA Business Brief: Service Animals;" New Hampshire Governor's Commission on Disability, "Service/Assistance Animals;" Vision Runner "History of the Guide Dog Movement;" State of New Jersey Department of Human Services Division of Disability Services "Personal Care Assistant Services;" Alaska Department of Labor and Workforce Development, Senior and Disability Services, "Personal Care Attendants;" American Medical Association "Americans with Disabilities Act and Hearing Interpreters;" Boston Opera House Accessibility Information
In their own words
Those with disabilities share their personal stories.
Opening more
than doors
Browse images and artifacts.
Missouri History Museum exhibition
Americans with Disabilities Act: 20 Years Later.
June 26, 2010
to Jan 8, 2012